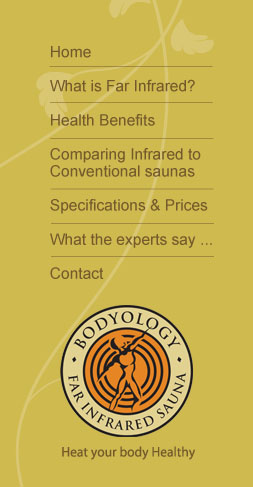 Traditional saunas work by producing very hot air; this effect is created by burning a contained substance with an electric stove element. The resulting steam produces an unusually hot atmosphere which, in turn, causes rapid perspiration on the part of bathers, and triggers what appears to be a 'cleansing' process.
However, we now know that – in this situation – the body releases salts rather than toxins. In traditional-style saunas only the body's surface temperature is heated, and the sweat produced is merely a cooling reaction.
The critical advantage of Far Infrared Saunas is that they penetrate deeply and are consequently able to extract harmful metallic toxins.
From a comfort point of view, Far Infrared Saunas yield many benefits: they enable easier breathing, the air is dry and a sense of claustrophobia and nausea is largely avoided.
To find out more please refer to the handy Comparison Table alongside.
Conventional &
Steam Saunas

Wood Type

Non-toxic hemlock

Usually cedar, contains cedrene

Heat Source

Infrared ceramic emitters

Electric stove element

User Comfort

Breathing, relatively easy

Harder to breathe

Temperature

Ambient to 50 °C

More than 70 °C

Sweat analysis

80% water, 20% toxins

97% water, 3% toxins

Elect. power

1-2KW

3-4KW

Pre-heat time

20 min

45 - 90 min

Fresh air circulation

Yes

None

Energy cost at 1hr/day

R22.00/month (incl. warming up)

Between R150-R210plus/month

Comfort level

Dry radiant heat

Claustrophobic/humid

Controls

Digital soft touch, internal & external controls

Usually outdoor controls, uses water over coals to control internal temp., unpredictable

Stereo music

AM/FM CD player

Disallowed

Medical use

Used by physicians

No data

Mold & mildew

No

Yes

Maintenance

Nominal

Expensive

Portability

Transportable/movable

Fixed

Other features

5yr warranty on heaters